Yunying Huang
Algorithm Jamplifying (2019)
Algorithm Jamplifying is an interactive installation creating an iterative collaboration between A.I.(artificial intelligence) and users, enabling human-machine co-creation of an evolving cultural expression. It imagines and develops new behavior, cultural artefacts, and aesthetics evolving in Chinese pop culture.
is living in every corner of our lives, it's embedded in CCTV, mobile device, social platforms, and more. Its ability for recognition, recommendation, prediction, and content generation is constituting and fabricating a hyperreality for Chinese people, which manifested through Chinese pop culture. We are living in a bubble that A.I. selected for us, our imagination is trapped. A.I. has pushed China to its next level of Ultra-Unreal, the reality of overloaded distorted information, the enormous growth of the Chinese economy, warp speed modernization, and political oppression. Algorithm Jamplifying is a strategy for users to escape this flood and reclaim control over social platforms – to learn to live with A.I. and create with A.I., become an A.I., use A.I. to fight against A.I.
With Algorithm Jamplifying, users and cultural producers adopt A.I. algorithms as a new way to generate memes, social media videos, and aesthetics (the platform to generate social media content with A.I. : https://2w1djam.com). After these generative contents are shared on social platforms, they serve as a creative noise modifying the original algorithms on these platforms. They also become a creative inspiration for users to produce new content. In effect, the content becomes "jamplified": Making, sharing, and consuming in this way amplifies the "noise" being injected on social platforms and users' agency. By facilitating this collaboration with A.I., users are able to exert control over their presence on social platforms and create content that amplifies their desires, values, and creativity. By initiating and being in this infinite loop and ecosystem, user, including their behavior, cultural expression, and social media memes are evolving as algorithms are updating at the same time. In this way, the expression of oneself is a hybrid of human and machine which turns user into an "AI-borg".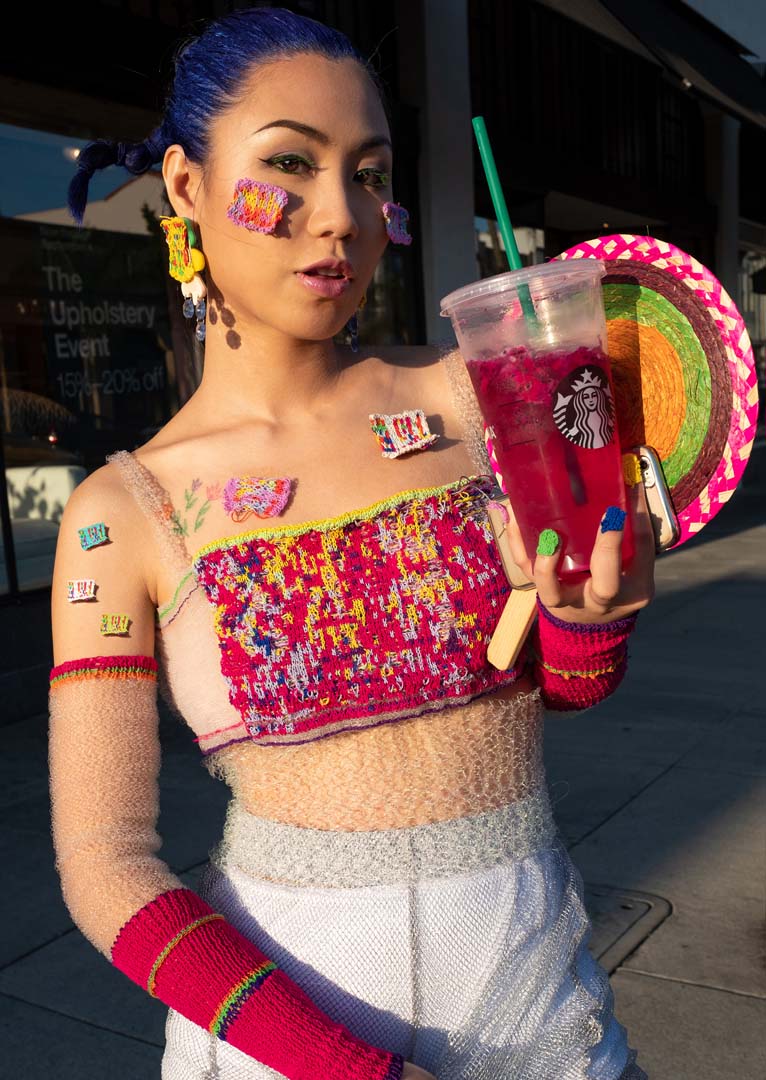 About the Artist
Yunying Huang is a media artist, creative technologist, and multimedia designer. By incorporating theory and techniques from emerging technology, pop culture, fashion, and social media, Huang creates innovative experiences for media platforms that address the authentic nature of everyday lives in China; challenges the Eurocentric and Orientalist perception of techno-culture. Her work, inspired by the unique aesthetic and behavior incubated by the political oppression and Ultra-unreal nature in China, explores our contemporary relationship to emerging technology, social identities, self-expression, and aesthetics; interrogating and intervening in the circulation of dominant ideology, agency, creativity in our everyday lives, online and off.
Huang holds a B.E. in Digital Media Technology and she is a recent graduate of Media Design Practices (MFA) at ArtCenter College of Design. Her work has been featured and shown at It's Nice That, PRIMER conference, ArtCenter, Parsons School of Design, NeurIPS, and the Wrong Biennale 2019.